Silver Pool Service $160/month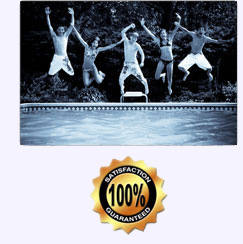 Greater Sacramento Pool Service
Silver Pool Cleaning Service
Let Us Do the
Dirty Work for You!
In addition to maintaining proper water balance, it is also important to maintain your equipment in good running condition.
With the Silver Pool
Cleaning Service, Each Week, Our Pool Cleaning Professionals Will:
Perform all items from the Bronze Service, which includes:
Test your water for proper chemical levels.
Add chemicals as needed to balance your water at no extra cost to you. This includes Chlorine, Salt, Soda Ash, Muriatic Acid.
Empty skimmer baskets and sweep bag.
In addition, the Silver Pool Service includes:
Empty bag and inspect your automatic pool sweep and pool cleaner.
Brush walls and steps.
Check your filter / filter pressure, backwash (DE and Sand Filters) or
clean (Cartridge Filters) as needed.
Disassembly, chlorine bath, and grid inspection of DE filters, sand replacement, and cartridge
replacement incur extra one-time costs.
Visually inspect equipment for proper operation.
We can perform repairs and part replacements automatically, or if you prefer, let you
know what is needed and wait for your approval.
Make seasonal adjustments or recommendations for timer box settings.
Price: $160/month
With each service we do a yearly water conditioning treatment. This treatment helps to maintain sanitary water conditions, and a crystal clear pool. The cost for this treatment is $65, and is only charged once per year.
To schedule your first pool cleaning service, give us a call toll free (916) 983-7665. We'll make sure your pool stays clean and swim ready all year long. We look forward to your call.
Serving the Greater Sacramento Areas including Roseville, Carmichael, Folsom, Elk Grove, Citrus Heights, Orangevale, Rocklin, Folsom & Granite Bay,El Dorado Hills, West Sacramento, Pocket